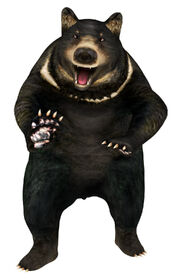 Bears (熊 kuma) are animals found in more rural areas. They are extremely large and fierce, not easily defeated by a lone ninja taking them head on with a sword.
Background Information and Notes
Edit
Bears have more Hit Points than many bosses (even in comarison to Tenrai), having 300 Hit Points while the protagonists have at most 100.
Shuriken can't kill a bear instantly, so the best way of killing a bear would be to throw a pinwheel at them and detonate it. You could also try to shoot it a few times with a longbow, then after it's calmed down, sneak up behind it and attack it for an instant kill in most cases.
Disguises are totally useless against bears (in contrast to the invisibility Spell).